I wrote a little bit yesterday about my hat debacle. I mustered up the strength to take some pictures of it outside today so I could do my blog entry. Without any further adieu:
Pattern:
Foliage by Emilee Mooney
Yarn: Knit Picks Wool of the Andes Bulky in Honeydew
Mods: I made version 1 using a size 10 needle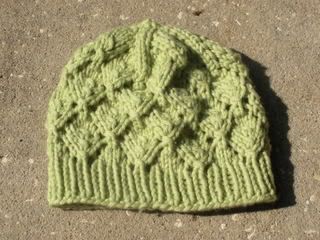 It's a real shame that my gamble on needle substitution didn't pay off because the hat came out very nicely. I didn't make any errors in the pattern and the yarn is nice and smooshy. What a complete waste.

Honestly, the thing came out so small that I doubt using the size 10.5 needles would have saved it. It needed another one or two repeats of the lace added in. Once again - I hate top down hats! This isn't one I'll be making again, that's for sure. The problems were all my fault, but that doesn't make me any less frustrated!