Wow, it's been awhile since I blogged! Rest assured, I have been busy with a lot of knitting and crochet projects. I have some things completed for my July classes, but I can't put up photographs! You see, they are surprises for a few swaps I'm in right now. Once my partners receive their items, I'll do full project posts. I'll have to leave them a mystery for a little while longer. :)
Some things I can show you are the projects I completed for Quidditch. As a chaser on the Slytherin team this term, I felt it was my duty to pull us out of the slump we were in with wristers. I whipped up 20 pairs for us!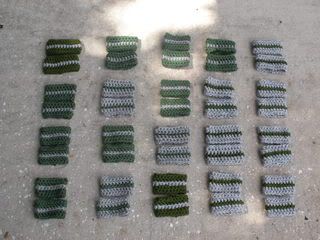 I also did a few emergency baby hats, which helped us meet our baby goal.
Thank goodness for the speediness of crochet!

In other exciting news, I have my shawl blocking! That's right, my OWL is complete. I should have full pictures of that up very soon. It turns out that you can't see my major mistake in it when it's all blocked out! Well . . . I can see it. I'll always be able to see it. But I don't think anyone else will!

Harry Potter tonight! Yay!