Well, the weather is definitely not cooperating with my plan to take pictures of my Herbology hat and DADA scarf. It is raining cats and dogs outside! All I have to post today are the mitts I made for Quidditch.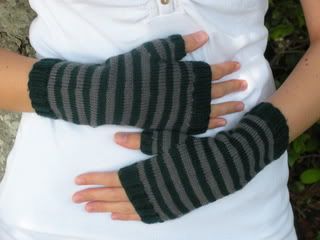 Pattern: I heavily modified the Merletto Mitts pattern. I basically took the numbers for casting on stitches and the instructions for making the thumbs. I eliminated the lace pattern and did 4 round wide stripes of gray and green.
Yarn: Knit Picks Stroll Sock yarn in Pine and Ash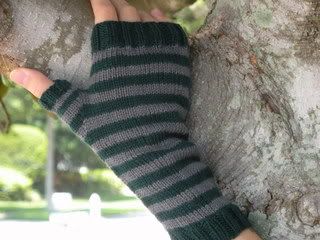 These mitts were a pain in the butt to make, but not for any big specific reason. They were just boring with all the stockinette. I persevered though and I got them done. I'm proud of the job I did on them because they look really nice in person. They are neat and well made. I can see myself using them a lot once winter rolls around.
The only other thing I have to talk about is my OWL progress. I am on row 144 out of 159 total rows, so I am well past the required 25%. It's hard to take a good picture of this since it's all bunched up on my circular needles, but it is looking really pretty so far. I can't wait to see it all stretched out!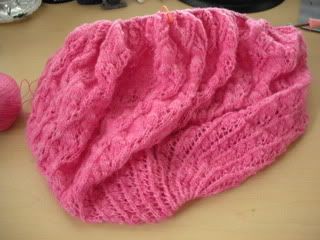 There is one big mistake in it that's killing me inside. It happened sometime in the beginning rows and I didn't notice it until it was WAY too late to tink back and fix it. I'm hoping that I can make it less noticeable in the blocking. In any case, I know that the untrained eye won't notice it, but I will. It will bug me forever. I'm trying to learn to embrace it as part of what makes the shawl unique. It's not working so far.