Well, after several days of very poor (and non-photo friendly) weather I finally have my next project ready to post.
I have technically been working on this project since before I ever got involved with the House Cup. I received a precious skein of Handmaiden Sea Silk for Christmas last year from my husband in the beautiful Tiger colorway. Even though I knew I had the Cup starting that January, I couldn't resist casting on a scarf with it right away. I decided on the Horseshoe Lace Scarf from 101 Luxury Yarn One Skein Wonders, got out my size 4 needles and cast on.
The knitting went well from the start. The pattern was simple and not even all that boring. However, when the Cup started I got so busy that I put it down and barely touched it for three months. In the one month interim between my first and second terms I decided that I had to finish it. I took the needles back up and finished the knitting portion a few days before the beginning of May. I stopped the repeats of the scarf at a good time - there was just enough left of the yarn ball for tassels. After that the Cup started up again and my poor scarf sat crumpled up in a ball on top of my bookshelf for another month, needing blocking and tassels.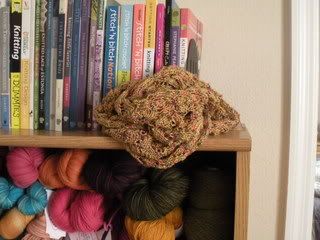 When July rolled around, I was pleased the see that our DADA assignment was to finish up a WIP. I admit that my first idea was to finish a blanket I had stashed away in the closet from a year ago. As I pulled it out and tried to work on it again, I decided that I just couldn't bear it. It was too boring and I would need to buy a lot more yarn to finish it. I didn't want to waste money on a project I wasn't enjoying, so I stuffed it back in the closet and decided to finally get my scarf done.
The first step was blocking, which requires a nice long soak first.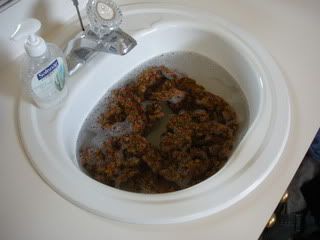 I put the scarf in the sink and let it get nice and saturated. When I went to retrieve it so I could pin it out, I discovered how wet sea cell and silk yarn smells. Not good.
The next step was getting my blocking wires threaded through the sides of the scarf for a perfect edge and pinning it in place. This was the most difficult part of the process. It wasn't
hard
to get the blocking wires in, it just took a long time and made my back hurt. I was hunched over my blocking boards on the floor for an hour! In the end I got it all pinned down nicely.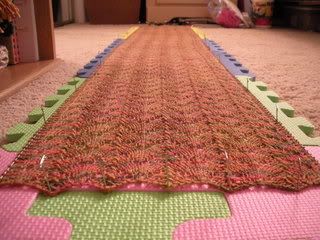 After the scarf had a night to dry it was time to make the tassels. Tassels aren't exactly my favorite things to make as they are a bit fiddly, but as I just wanted small ones for this project they didn't take too long. I used the tried and true method of wrapping the yarn around a book to make them.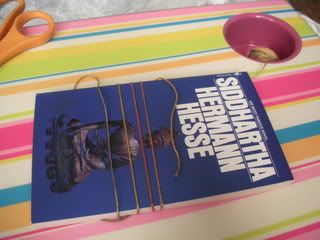 One all the tassels were cut out and lined up neatly I attached them using a crochet hook. I did seven tassels on each end of the scarf, placed at each of the points I had pinned out the day before. The scarf has a bit of a scalloped edge and the tassels finished out the points nicely.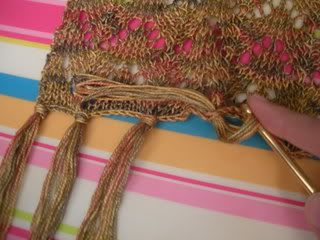 After all that work I was left with a beautiful silk scarf. It is probably one of the nicest things I have knitted, based on the quality of the yarn and the simple elegance of the pattern. I am very pleased I got a chance to finish it this month.
Pattern:
Silk-Wool Horseshoe Lace Scarf by Marci Richardson
Yarn: Handmaiden Fine Yarn Sea Silk in Tiger
Mods: I cast on 55 stitches for fice repeats of the lace pattern for a skinnier scarf. I knit until there was only enough yarn left to make tassels. This worked out to be 49 repeats.
The finished scarf is about six feet long and it is stretchy. I'll have to make sure I don't snag this on anything as there are lots of YO holes.
The cool thing about Sea Silk is that the yarn smells like the beach. Now I'll have memories of summer when I use this scarf in the cold weather.
I'm very happy this scarf is finally finished. I always felt guilty about letting it sit around half done for so long since the yarn was so precious to me. This pattern was an excellent way to use up a ball of Sea Silk. Now I just have to figure out what to do with the ball of it I have in Glacier.