In my (seemingly) never-ending quest to clear the pile of
FOs
off my desk, I bring you my project for Divination: a cheery little flower coaster for my favorite tea cup.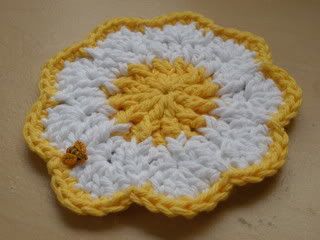 Pattern:
Springtime Coasters by

Doni

Speigle
Yarn: Sugar and Cream Cotton in white and yellow
Mods: None to the actual crochet pattern, but I did add a small bee button around the edge.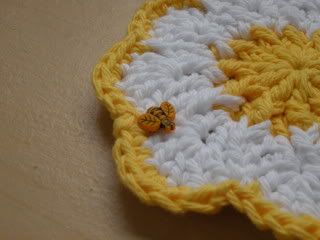 The assignment was to either create something that related to tea or make something that represents an omen (good or bad). With this assignment, I did both. The coaster by itself is for my favorite tea mug, so it fits the first assignment. Bees are a good omen to me (
as that's what my

patronus

is
), so it fits the second assignment too.
I actually had to make this coaster twice, as the first time I completely screwed it up and ended up with one too many petals on the flower. This was completely my fault. I miscounted the stitches somehow the first time around. The pattern was correct and well written.