Well, I braved the stifling heat to go out and take a picture of my Herbology hat today. That's officially the last project I have to turn in for the month of June in the HPKCHC! I'm doing very well this term - turning in every possible assignment and getting my OWL where it needs to be. If I can keep it through July I'll have a perfect record! Now, onto the hat!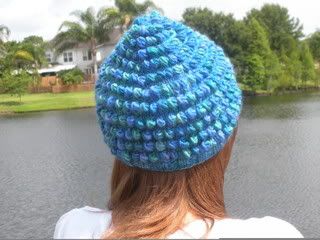 Pattern:
Berry Bobble Hat by Cathy Carron
Yarn: Malabrigo Merino Worsted in Emerald Blue
Mods: I used size 8 needles and made the smaller size. This was purely because I don't like the size 7 circs that I own.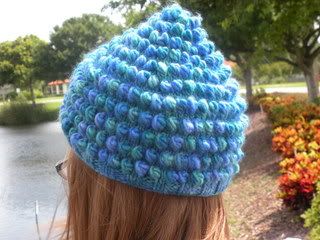 I have to admit that I'm not incredibly pleased with the finished hat. While making it the first time through, I dropped a stitch somewhere and it slowly unraveled down the hat, messing up my stitch count and somehow going unnoticed by me for several rows. Of course, having this missing stitch messed up my bobble placement and by the time I figured out what was wrong there was nothing I could do except frog it and start over. On the second go around I lost a stitch somewhere else right toward the end. I'm pretty sure I just took one too many stitches into a bobble and it got gobbled up that way. I was too frustrated at this point to fix it properly, so I just added in a stitch to the row I was working. Sloppy, I know. You can't tell unless you know what you're looking for though.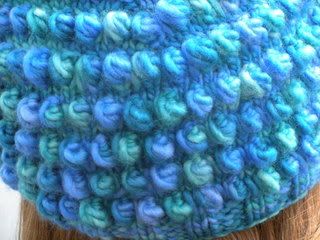 This hat was knit from the top down, a construction method that I don't like too much. I have never had much luck with the fit of hats made this way, even though I know that isn't logical. Why shouldn't it fit just the same as hats knit in other ways? This particular hat goes on my head, but it is just a fraction too big. I feel like using the proper needles would have been a better idea, but I only have Fiddlesticks brand size 7 16" circs, and they suck the big one. I need Clovers in this size.
I also am not a huge fan of the way the hat is shaped on top. It makes my head look like a Hershey's Kiss. I can't complain too much about that though, because that's exactly how it looks in the magazine picture next to the pattern. I was hoping that knitting it a little bigger and pulling it down on my head firmly would eliminate this effect, but that didn't really work out. It just wants to puff up at the top and no amount of pulling on it stops it.
The point of this assignment was to knit something with bobbles, and that part of the project went right. I got quite proficient at making them, and they look really cute. Using the variagated yarn gives them a neat effect - they are all slightly different colors.
It's definitely not my favorite project that I've ever done, but the hat looks okay on my head. I guess you can't ask for much more than that in the end, right? It took a long time to make on account of all the bobbles, and I hate the fact that I used up a precious skein of Malabrigo on a projects I don't like all that much, but it's all good. I'm going to chalk this up to a good learning experience. I learned how to make bobbles and I leaned a new disappearing loop cast on that worked very well closing up the top of the hat. I also reaffirmed my notion that I don't like top down construction. I could see myself wearing this in the winter, but I don't ever see making another one.