May has finally arrived and with it comes the start of the Spring 2009 Harry Potter Knit and Crochet House Cup! I am so excited to be back at home in the Slytherin dungeons that I have finished three assignments already.
First up is Defense Against the Dark Arts: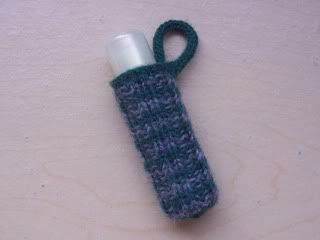 Pattern:
Ribbed Lip Balm Holder
by Dawn L.E. Riden
Yarn: Knit Picks Palette in Teal and Marble Heather
Mods: None in the knitting process, but I did add the stripes by changing colors every two rows of ribbing.
The object of this assignment was to knit something that protects something else. There were bonus points promised for making the item in house colors. This is actually my first green and gray project (but not the last one of this month).
The pattern is fantastic and the cozy fits around my chapstick like a glove. The only difficulty I ran into on this project was getting starting knitting in the round on size zero double points! It was very fiddly trying to get the first few rounds done. I'm quite happy with the finished object though!
Next up is Charms: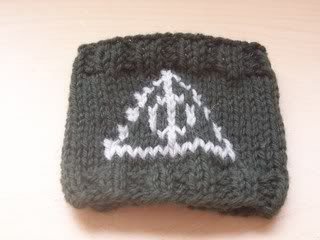 Pattern:
Deathly Hallows Wristband
by not_gini
Yarn: Knit Picks Wool of the Andes in Evergreen and Mist
Mods: Sadly, none. I should have reduced the needle size and maybe cast on less stitches. This came out too big for me.
The idea of this project was to knit an object that would identify you as a witch to your fellow witches, but not be obvious to muggles. I decided to finally take the plunge of learning Fair Isle on this small project. It was a good way to learn it, because the chart for it is very simple and short. I think that the colorwork came out great, and I accomplished one of my New Year's Resolutions (in part) by learning it! Like I said above, it came out too big. It fits my husband perfectly though, so it belongs to him now. I fully plan to make another one for myself with some modifications later.
Lastly, Arithmancy: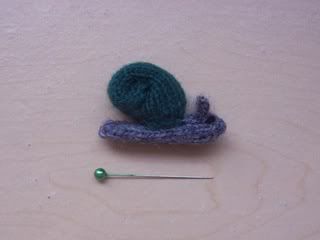 Pattern:
Snails and Slugs
by Anna Hrachovec
Yarn: Knit Picks Palette in Teal and Marble Heather
Mods: None. I made the size 1 needle version.
This is the smallest and perhaps the cutest thing I have ever made. It is super tiny at 1 and 3/4 inches long and 3/4 of an inch tall. The assignment was to knit something representing the Golden Ratio. This little guy's spiral shell does that. Don't ask me how, because I don't do math. I just copied what another student made!

You can't help but smile when you hold him. I did him up in Slytherin colors and named him Severus. He's officially the coolest snail on the block.

All I have left to do now is post my Muggle Studies assignment (pictures coming soon), and figure out projects for Herbology and Ancient Runes. Not bad for the first week of the game, huh?

Oh, and I made Chaser on the house Quidditch team! More on that in future posts. :)