Here I am checking in with another finished project. This time it's for Herbology: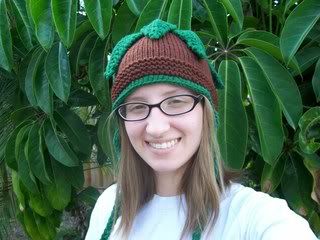 Pattern:
Thorpe by Kristen Kapur
and
Mountain Laurel Leaf by Bonnie Sennot
Yarn: Knit Picks Wool of the Andes Bulky in Hazelnut and Wool of the Andes Worsted in Grass
Mods: I knit the hat using a size 10 needle as that's all I had in a 16'' circ. The green yarn is held double throughout the hat and the leaves. I knit the leaves using size 10 and 9 needles (they alternate in size around the top)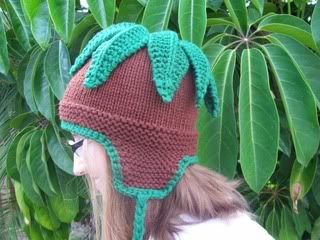 The idea of this project was to knit something inspired by the mandrake plant. My twisted mind went to a hat with leaves on it right away. The hat is a little bit big, but it will definitely keep my head warm (you know, if I ever decide I'm crazy enough to wear it outside). I'm happy with how it came out.

Now onto Ancient Runes! After that project, my homework will be complete and I can move onto Quidditch.

Tomorrow I'm subbing in a nasty classroom. I hate the kids, but the teacher is really nice and asked for me especially, so I agreed to the assignment. This is a high school reading class that is filled to the brim with with the felons of tomorrow. I literally think I could get several of them to take a swing at me if I chose to give them a hard enough time. All I can do when I am there is prevent them from wandering off (MUCH harder than you probably think).

All she's left them to do is watch random movies. This means I have to try and keep them relatively quiet throughout their 90 minute period. Yeah, okay. Right away. It's going to be interesting tomorrow, that's for sure.