I thought today would be a good day to do a little sprucing up around the blog. I changed up my header and redid the colors. Nice, huh? This is much more cheery and it puts me in the mood for spring!
Speaking of spring, I am currently enjoying more time off in the second part of my break. The DH has his spring break this week, so I am taking some more time off to chill with him. We really needed the recharge time too. When you work all day long, you don't have much time to just be a couple.
I worked a little bit today on my shawl, which is nearly finished. I have four more repeats of the border pattern to go and then the bind-off! Please excuse the messy progress picture - the shawl is now so big that I can't really stretch it out for a proper picture without risking some stitches falling off the needle.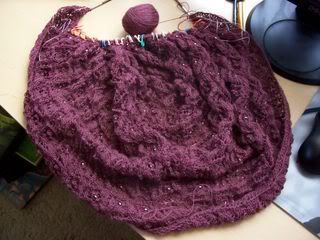 I'm really enjoying the knitting still, but I can't wait for it to be finished. I've never been so excited to block something.
My other WIP at the moment is a cowl I wanted to use for the HPKCHC, but I didn't get it finished in time. I feel honor-bound to finish it before the next term starts (next month!).
See that decorative picot edging on the bottom? Hardest knitting thing I've ever done, hands down.
It was incredibly fiddly and I had to tink back tons of times to correct bunching issues. Once I got the hang of it, it came together nicely, but I was sweating all the way. There's no way I'm not finishing this cowl now, because then all that hard work would have been in vain!

The worst part is that I have to do the edging again at the top.