I wasn't planning on making any special projects for Easter this year, but this one just fell into my lap.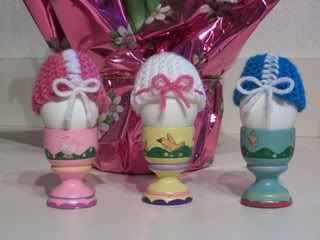 My mother really wanted to decorate Easter eggs this year. As I was boiling them up in preparation for dyeing, three of them got cracked. They were no longer suitable for decorating, so I decided to make some little hats for them.
Pattern:
Chick Egg Cozies
by Derya Davenport
Yarn: Paton's Classic Wool Merino, Vanna's Choice, Red Heart Ltd. Soft Heart Solids
Mods: I knit the cozies as the pattern directed, I embellished them with scrap yarn differently.
Happy Easter everyone!