Today has been a day of new things. Firstly, I got my new computer today! It is absolutely beautiful and shiny and powerful. I love it. My old computer, which grudgingly served me for the past few years finally self-destructed to the point where it would no longer turn on. Rather than spend money to fix an outdated rig that would surely break again in the near future, my DH treated me to a nice new Dell.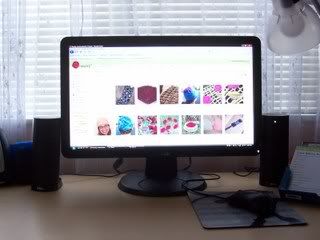 I know just enough about computers to know I don't deserve to have one this nice. Just look at the screen! My horrible camera really doesn't do it justice.
The second new thing that's happened this week is that I finished my old book (
Foxmask
) and I'm ready to start a new one. I chose
Under the Greenwood Tree
by Thomas Hardy. I figured that it was time for a classic after reading mind-rotting contemporary fiction for the past 2 months. This will be the one that I review for March. Not that I can presume to "review" anything by an author as great as Hardy, but I'm going to write down my thoughts.
A third new thing is the scarf I'm working on for my Care of Magical Creatures class in the HPKCHC. The assignment is to make something with animal tracks on it. I chose the
Rabbit Tracks
scarf. It's a simple lace pattern that is knitting up beautifully so far in Malabrigo worsted.
The lace pattern with be more visible once the scarf is blocked (with my brand new blocking wires!). I will provide more details in the scarf's FO post.
For an "out with the old," I'm nearing completion of my first OWL! My granny square throw for Potions is nearly complete. I finished all the crocheting and now I'm at the finishing stage. I still have hours of work to put into it, but the main part is done.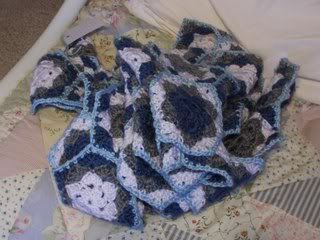 This big pile of stuff is the blanket so far. All the components look fantastic, but all of the sewing is going to take forever!

Tonight is the night we "spring forward." I hate losing an hour of sleep. It's not like I'm not tired enough already. I had an especially tiring sub job last Friday. It was a special request from a teacher who nabbed one of my notes from a sub job I did a while back for another teacher in the school. I was flattered that she thought enough of me from an old note to hire me for this job. As usual, I completely misinterpreted the situation. This lady probably hired me because I was the last sub left who didn't know about the mess she has going on in her classroom.

This was a middle school art classroom, and that should have been a red flag to me right there. Art teachers tend to conform to the fruity, hippie stereotype. Not all of them, of course, but some do. Some try to be earth mother/friend of the students and have horrible classroom management. This lady was one of those. The kids were climbing the walls all day. They were nuts, and not the usual nuts that comes along when subs are in the classroom, but a special, evil kind of nuts. Clearly, they were used to acting like savages in this classroom and my presence was not going to change that.

When a teacher does not have control of her own classroom, there is no way that a sub is going to have it. Talking with some of the nicer kids that day revealed that this behavior was the status quo in the room. "It's like this every day," they told me, "Sometimes worse." Great. Just great.

At least I know that it wasn't my fault I had a horrible day. I don't know how this teacher deals with this type of behavior. I understand that she probably wants art to be fun for the kids, but there still needs to be some semblance of order. Kids can't be running around the room screaming and jumping on desks.

Ah, well. The best thing about being a sub is that I can move on and forget this day ever happened. I don't have to puzzle out a solution to this mess. As one of the shrewder children remarked to me, "You'll still get paid whether we behave or not." Truer words were never spoken.