Today I managed to get the photos together for two more HPKCHC asignments. I'm proud of these projects - I think my knitting/crocheting has gotten better since the beginning of the year.
First up, March Herbology:
Pattern:
Baby Octopus
by Ana Paula Rimoli
Yarn: Knit Picks Essential in Granny Smith
Mods: I used a size D hook and fingering weight yarn to make this little guy mini-sized. I also embroidered on the face rather than using felt and plastic eyes.
The idea of the assignment was to make something shrunken, and I knew I wanted to do an animal. Flipping through my Amigurumi World book, I saw this little octopus and fell in love. He was fairly easy to make, but the finishing was a bitch! The body and legs are made separately, so I had to sew the 8 little legs on by hand. It was incredibly hard to get them on properly! There were many amputations before I finally got him looking the way I wanted him.
Right now he's sitting on my speaker next to my computer, keeping me company. He's completely pointless, but adorable all the same.
Next up is my Charms project: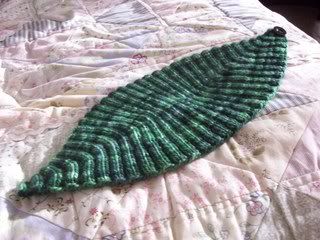 Pattern:
Calorimetry
by Kathryn Schoendorf
Yarn: Malabrigo Merino Worsted in Verdes
Mods: None!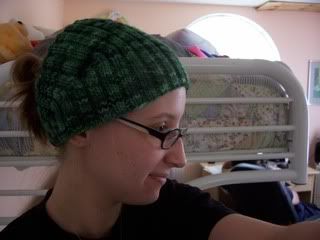 The idea of this project was to make something pointless. I chose to make this little number because I already own 8 million hats, I have never worn most of them, and I live in Florida where hats aren't necessary anyway!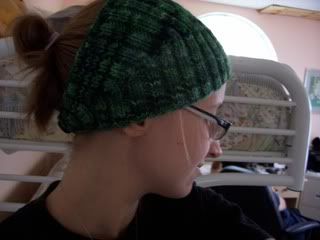 I absolutely love this project though. I love that I can wear it without it messing up my hair and I love how cute it looks on! This was the last of my yummy green Malabrigo. :( I need some more of this color!
Anyway, I have an update on the book front. I have decided not to read
Under the Greenwood Tree
this month. I tried my hardest, but I couldn't get into it! I suppose it's not the right time for me to read something like that, which requires concentration. I have decided instead to reread
The Great Gatsby
. It's one of my favorites and I haven't looked at it since high school. It will be wonderful to go through it again with grown up eyes.