Today I finished blocking my assignment for my Care of Magical Creatures class. It is a scarf, it is made out of Malabrigo and it is lovely. The idea of the assignment was to make something with animal tracks on it.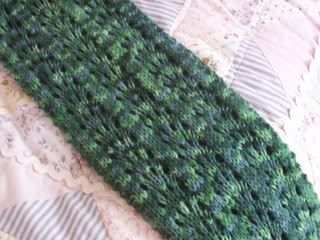 Pattern:
Rabbit Tracks
by Alison Jeppson Hyde
Yarn: Malabrigo Yarn Merino Worsted in Verdes
Mods: I cast on 4 extra stitches so that I could knit the first and last 2 of every row for a border
This was the easiest knit scarf I have ever done. It is made over a four row repeat, and two of those rows are just purling across. The pattern was very easy to memorize, and knitting it up on size 11 needles made it fly by. I am quite pleased with the finished product. As an aside - I got to use my new blocking wires for the first time on this project!

Now I'm off to continue on with my other projects!