Well, I've officially done it. Thanks to a strange exhaustion inducing virus that caused me to miss a whole bunch of work this week, I've been able to finish my potions OWL. The assignment was to do a granny square afghan. Technically I've done granny hexagons, but you get the idea.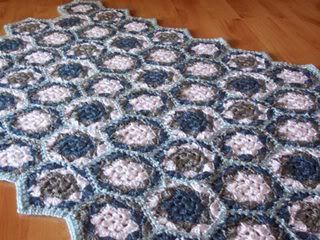 Pattern:
Graphic Granny Afghan
by Katherine Eng
Yarn: Caron Simply Soft in Country Blue, Soft Blue and Gray Heather
Caron Simply Soft Brites in Coconut
Mods: I chose my own colors for the blanket, and made the first two rounds of each hexagon the same color. I also used a size J hook for the project.
I'm quite pleased with the way this came out. The colors work well together and it's a good size for a lapghan. If I had more time, I might have added on more hexagons, but I'm on a tight knitting schedule right now and I couldn't do that. As it is, this is the biggest crochet project I've ever done.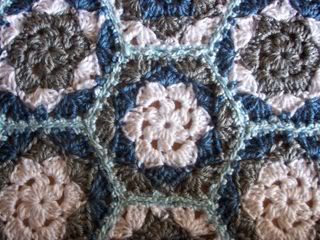 The only annoyance I have with it is the little ends I've weaved in that keep managing to work their way out. If I were to make this blanket again, I would tuck in the ends from the last round of the hexagons better. I would weave them into more interior rounds. I didn't realize that the finishing process would cause them to sneak out like this. I keep having to go over the blanket looking for ends to trim. Now that I'm done tugging on it for the seaming I'm hoping that this problem will disappear.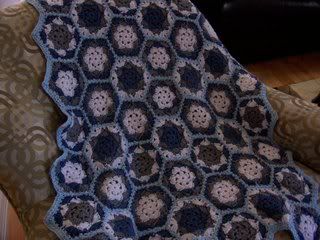 This will eventually be a gift for my mother. Her birthday isn't until May, so I'll have to wait a little while to show it off. It's nice to have it done ahead of time though! My mom and my dad actually have the same birthday, so now I've just got to worry about him.
I've still got lots of work to do this month - that scarf I mentioned in my last post is nearly finished and I've got a mini octopus in the works for Herbology.
Of course, my charms OWL is still alarmingly far from completion. The plan for today is to get a whole bunch of rows done on that. It is going slower than slow for some reason lately. Probably because the darn thing gets bigger every row.