Remember a few weeks ago when I mentioned that the new
HOM
assignment was to make something inspired by your favorite character in Harry Potter? No? That's okay. Read on anyway.
I spent quite a while trying to figure out what to do. I have many favorite characters from the series, but it's not so easy to come up with the
perfect
thing to represent them. I wanted to turn in something thoughtful and unique, but I didn't want to cast on another knitting project (I have a lot on the needles right now). Finally as I was drifting off to sleep one night, an idea hit me. I could cook something! Of course!
Aside from knitting and crocheting, cooking is probably my favorite other art form (and food
is
an art form). It would be perfect for me to tweak a recipe to make it represent a Harry Potter character. With my medium finally decided, my thoughts fell to figuring out which character to represent. My favorite characters in novels and movies always shy away from the norm. It's rare that I come to love a main character the best and it's even rarer that I love a character on the side of good. Everyone loves a villain, right?
I decided that it would be way more fun to cook an evil recipe than a good one, so I ran down the list of my favorite Happy Potter baddies in my head. After considering my options, I ended up choosing none other than Lucius
Malfoy
. No only is this guy a royal asshole, he's pretty sexy too (in the movies at least).
With a character in mind, I quickly formulated a cooking plan. A food inspired by
Malfoy
Sr. would have to be dark in color for sure. Black if possible. It would have to be spicy too, obviously. It would need to have layers of smoky flavor, as
Lucius
has many layers of deception operating on a regular basis. Besides all that, it would need to have some green ingredients, for
Slytherin
, and some white ingredients for his white hair, probably his most defining physical feature. The one food I could think of that fit all of these parameters was black bean soup.
After scouring the
Internet
for a suitable recipe, I settled on
this one
. I made some changes to it so that it would suit
Lucius
Malfoy
better (described below). A quick trip to the grocery store secured my ingredients and I got to cooking.
I began by preparing the onions and garlic. I also added a diced
jalapeno
to the recipe, for some spice and some Slytherin green.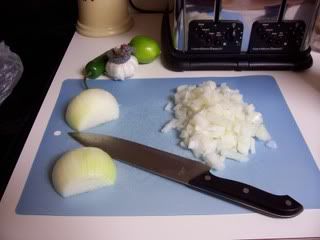 When that prep was all done, I starting the cooking part of the recipe. It began with frying some diced up smokey bacon. The recipe called for 10 strips of regular bacon, but I used 5 strips of real bacon and 5 strips of turkey bacon to make the recipe a little more figure-friendly. When the bacon had given up some of its fat, I added the onions, garlic and jalapeno to the mix. You can not imagine for AMAZING this smelled.
After that mixture had sizzled for a little while, I added in the rest of the ingredients, including the black beans, tomatoes, ketchup, Worcestershire sauce, and chicken broth. The only change I made in this section was to substitute spicy Mexican chili powder for the regular chili powder the recipe called for.
All that remained to do after that was to let the soup simmer for a little while. At the time specified in the recipe, I added in some fresh cilantro and lime juice (both Slytherin green ingredients might I add).
I garnished the finished soup with fat free sour cream and sprigs of cilantro. The cilantro is to remind us of Lucius' Slytherin heritage and the sour cream is for his shock of white hair.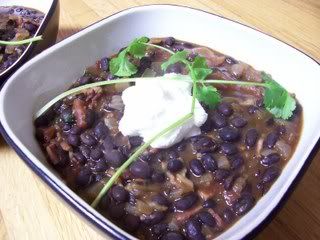 I don't want to brag
too
much, but this soup was amazingly delicious. It had the right mix of smokey and spicy flavors. The dark coloring was perfectly evil and the garnishes finished the soup nicely. I would definitely recommend giving this recipe a try!