Sorry for the short blog absence, but I haven't felt much like writing lately. Subbing is getting to me a little bit. It's exhausting, frustrating work with very few rewards. Most days all I want to do when I get home is sleep. Adding to the stress of it all is the everlasting school budget crunch which means I probably won't be finding a full time teaching position anytime soon. If I didn't have knitting to keep my hands busy I would be having a considerably harder time with everything. It's my own form of meditation I suppose.
Anyway, I've come today to post some FOs I've made for the HPKCHC over the past week. First up is my Care of Magical Creatures project - my Ashwinder. This one comes in three parts:
the snake
,
the eggs
and the
little snakes
.
Pattern:
Ayame the Snake
by Mary E. Smith
Yarn: Patons Classic Wool Merino
Mods: None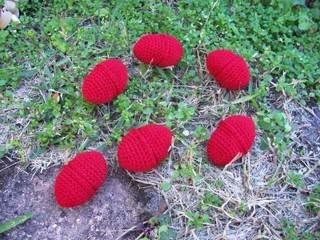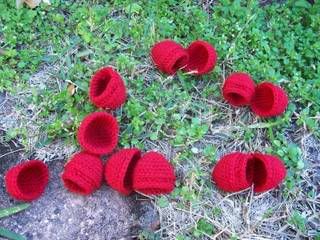 Pattern:
Happy Eggs
by Ana Paula Rimoli
Yarn: Patons Classic Wool Merino
Mods: None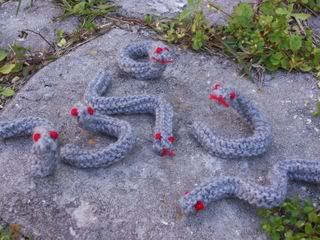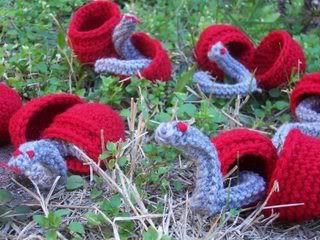 Pattern:
Bendy Snakes
By Frakie Brown
Yarn: Patons Classic Wool Merino
Mods: I used embroidery floss to stitch on eyes rather than use the paste-on googly eyes the pattern recommends.
I explained the story behind the project more thoroughly in
this post
. Basically, our project this month was to make a magical creature. I chose to do an Ashwinder from the HP universe. An Ashwinder is a snake that crawls out of magical fires to live for one hour. In that hour they lay a clutch of bright red eggs . I took the whole thing a step further and made little baby snakes to pop out of the eggs.
The baby snakes are essentially strips of garter stitch seamed up around a pipe cleaner. It's a simple pattern, but quite ingenius. The little guys have gone over pretty well with everyone I have shown them to so far.
The next project I completed was my
Charms project
. I made a hat for my husband as a Valentines Day present.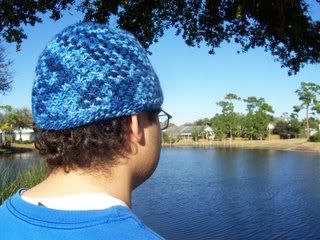 Pattern:
The Armando Hat
by Gina House
Yarn: Malabrigo Yarn Merino Worsted
Mods: I used a size 10 16" circular instead of a size 9 because that was all I had. I made the medium size.
Our Charms assignment was to make an object which had to be kept a complete secret from somebody. With Valentines Day right around the corner, a present for my DH seemed to be the perfect thing.

Happily, it fits my hubby perfectly and he likes it a lot. I loved working with Malabrigo again. The colorway of this yarn is absolutely gorgeous and perfect for a guy. I feel like it's interesting and rich without being flashy.

I've got a lot more in the pipeline as far as my HPKCHC classes go. My DADA project is completely finished and awaiting pictures. My OWLS are at 25% each and waiting for pictures. My Herbology homework is well on its way (that one has a lot of components). The only thing I haven't started on yet is Arithmancy, as I need to go and buy some needles for that one. I'm really hoping to get everything finished in time!