I can hardly believe how quickly this month flew by! February is a shorter month to begin with, but it really seems like yesterday was February 1st!
I've been working fairly steadily lately. One of my regular jobs is for a teacher that is undergoing cancer treatment. Every two weeks I go in and sub one whole day followed by one half-day. I've really bonded with his 4th block class, so that's pretty cool. They aren't the easiest kids to work with - they've got a lot of issues - but they are all good at heart. I know all of their names and everything, and that never happens.
They see me knitting all the time and they always ask me what I'm working on and how I do it. I think that this school (or any school, really) would do well with a knitting and crochet club. A lot of kids get into trouble (especially the ones I'm talking about here) because they have nothing better to do than hang out with the wrong crowd. I keep thinking that maybe if they had something positive to keep their hands busy they could avoid some trouble.
Eh, that's probably wishful thinking on my part. If I had things my way, everyone would be
required
to knit.
Anyway, I've got some FOs to show you to round out February. Here's the last bunch of assignments from the HPKCHC.
First, my DADA project.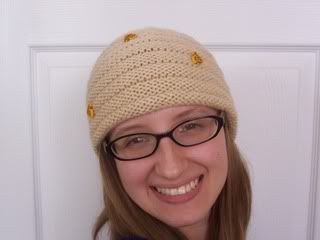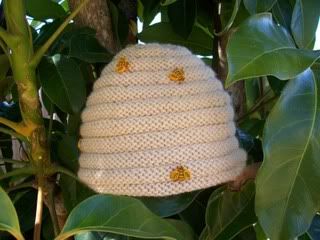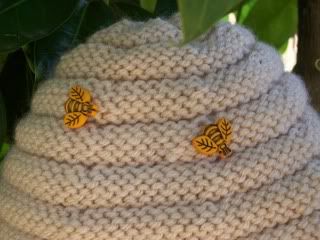 Pattern:
Bzzz Hat for Queen Bees
Yarn: Lion Brand Vanna's Choice in Beige
Mods: CO 80 stitches
Complete 5 full pattern repeats, then start the decrease rows
End with 32 stitches on the needles
This hat was a real pain in the butt to make. The pattern as written knits up to an elephant-sized hat. Seriously, I feel like something is wrong with the pattern. I had to frog this three times and seriously fiddle with the number of stitches to cast on and the number of pattern repeats to make.
The end result was so cute that I consider the frustration worth it. I'm glad I figured out how to make this hat fit! The bee buttons are from Michaels.
The assignment was to make an object that related to your patronus. My patronus is a swarm of bees, so I made this beehive hat. I explained my reasoning behind my choice of these quite succinctly in the DADA thread in the HPKCHC boards:
Work ethic: Bees keep busy and work hard, (you know the saying, "busy as a bee") and so do I. I never have nothing to do. I'd go nuts if I had to sit still for too long, so I keep myself busy. This usually takes the form of knitting or crocheting, but if I have something to do for work I work on it relentlessly until it is done.

Pollination: Bees give flowers the pollen they need to grow. As a teacher, I give students the knowledge and guidance they need to grow. We both help raise up beautiful things.

Sting: Bees are tiny creatures, but they don't let that get them down. They have a powerful sting. I am kind of scrawny myself, and my small stature doesn't do me any favors when it comes to dealing with difficult students. I have to pack a sting through my attitude and procedures in dealing with them. My strictness functions as a warning for them to behave as a bee's stinger functions as a warning for people to keep away.
Next is my assignment for Herbology. A (mostly) self-designed Trellis Scarf.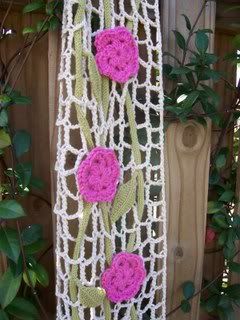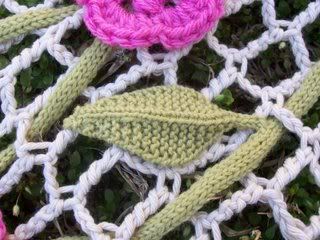 Pattern:
Crocheted Mesh Scarf
by Heidi Hirtle and
Mountain Laurel Leaf
by Bonnie Sennott
Yarn: Knit Picks Main Line in Ivory, Knit Picks Essential Sock in Granny Smith and Lion Brand Vanna's Choice Baby in Pink
Mods: I chained fewer stitches for the scarf that the pattern called for to make it more narrow (around 30 or so). I worked about 40 rows of the pattern.
This project was special to me because it is the first thing I have made that I haven't followed exactly from a pattern. The scarf base and the leaves were from pre-existing patterns, but I brought them together in a way that was all my own. The idea of the assignment was to use at least a yard of i-cord to make something that wraps around the body. I was inspired by the idea of a garden trellis. I ended up with about 186 inches of i-cord altogether, which I used as vines to weave through the scarf base.
The most annoying thing about this project was the finishing. There were so many different pieces to sew onto this scarf! It all holds together very well though, so the time I put into it was worth it. This is a goofy project, but it is unique!
Lastly, I have a hat for Arithmancy.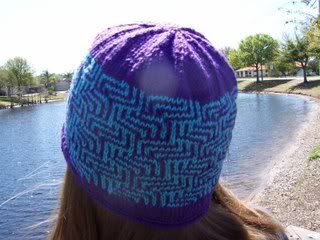 Pattern:
Maze
by Celeste Culpepper
Yarn: Knit Picks CotLin in Eggplant and Desert Turquoise
Mods: I completed three full repeats of the maze pattern before beginning the crown decreases
What can I say about this hat? It's beautiful. It's not itchy. It's just the right size. I am in love.
The idea of the assignment was to make something related to labyrinths. I immediately thought of this project from Knitty. From my post on the HPKCHC boards:



When this assignment was posted, I immediately thought of the Maze Hat from Knitty (I'm surprised no one else made this for this class). I was pleased to see that this pattern suited my arithmancy numbers well. For example, the number seven shows up in the pattern over and over, and seven is my social number. The pattern uses slipped stitches to create the maze image, and the slipped stitches are always alternated with knit stitches (i.e. slip 1, knit 1), so my character number of one shows up many times as well. I also cast on for the hat with size three needles and three is my heart number. It seemed like destiny for me to use this pattern for my project.

For my colors I chose the same ones I worked with in last month's assignment - purple and blue. They work well together and match my numbers. The finished product is absolutely beautiful. While I don't consider this true color work (I'm only holding one strand of yarn at a time and slipping stitches to create the image), this is my first experiment in a more complicated color design.
So, obviously, I've been a very busy knitter lately! Tomorrow is the start of March and with it will come another batch of projects to make for the HPKCHC. I can't wait to see what's in store for us next!