I can't believe that we are already into the second month of the new year. It seems like just yesterday I was setting up this blog and solemnly pledging to write in it at least once a week. I've done a pretty good job so far. Let's see if I can keep it up this month!
The first bit of knitting to report is an unexpected project. It seems like everyone wants to know a knitter when babies are on the way. My mother asked me to make a pair of baby hats for two different clients with newborns. One boy and one girl. She was buying the yarn, so I said, "Why not?"
The pattern is
Fixation Newborn Hat
. The yarn is
Lion Brand Jiffy Solid
. No, your eyes aren't deceiving you. One hat is substantially bigger than the other.
I cast on for the boy hat first and I followed the pattern exactly. It wanted me to cast on 70 stitches, which seemed like a lot to me -- especially in bulky yarn. I, however, never follow my knitterly instincts. I assumed that I must naturally be wrong and forged ahead with what the pattern called for. The resulting hat was probably appropriate for a baby elephant. I didn't want to stress about it though, so I just assumed the kid would grow into it one day and cast on 50 stitches for the girl hat. That one looks much better. I should learn to listen to myself more!
The next knitting news is about my Potions OWL in the HPKCHC. I decided to make the blanket strip by strip, assembling it as I go. This is to avoid weaving in all those ends at once! I need to have 25% of this sucker done by the end of the month to earn some more house points. I have a long way to go. I have one strip done so far: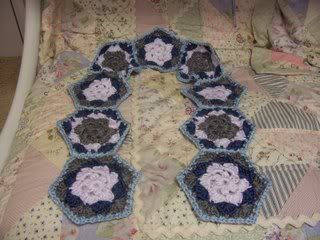 Purdy, huh? I'm liking it so far! I rarely pick colors that go together so well but I did a good job on this project. It reminds me of winter weather. I hope my mom likes it when all is said and done.
Lastly for tonight I have part of my new Care of Magical Creatures assignment. The challenge was to craft an amigurumi magical creature. I chose the Ashwinder.
From
Fantastic Beasts & Where to Find Them
:
" The Ashwinder is created when a magical fire is allowed to burn unchecked for too long. A thin, pale-grey serpent with glowing red eyes, it will rise from the embers of an unsupervised fire and slither away into the shadows of the dwelling in which it finds itself, leaving an ashy trail behind it.

The Ashwinder lives to only one hour and during that time seeks a dark and secluded spot in which to lay its eggs, after which it will collapse into dust. Ashwinder eggs are brilliant red and give off intense heat. They will ignite the dwelling within minutes if not found and frozen with a suitable charm."
Here's what I've got so far: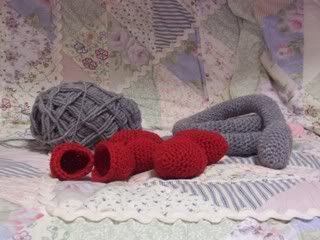 Most of the
snake
and most of the
eggs
are done. I need to affix eyes to the snake, put a wire in the body (for mold-ability) and make a bevy of little snake babies for the eggs. I'm really pleased with the way the project is coming together so far. I think it will make for some awesome pictures.
I will share more details about patterns, yarns and such when I've completed everything. For now, that is all. I've got a sub job for tomorrow and I need my sleep!