This was how I spent my weekend last week. My BIL got married! That would be him in the picture above with his new bride. They are both so photogenic! They make me and my DH look like a pile of crap.
The wedding was big and beautiful. It was five hours away from us in south Florida. It was a long car ride, but the awesome thing about it was that I got to knit! Between the ride there and back I was able to finish my assignment for Care of Magical Creatures:
Simple Rug Knit Snuggle
.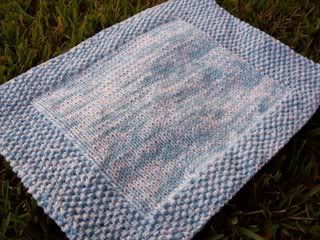 It's meant to be a small pet blanket. As I have no pets of my own, I'm going to give it to my dad's girlfriend, who has 2 cats. Hey, nothing like a low-cost gift for people you don't really like but have to be cordial to, right?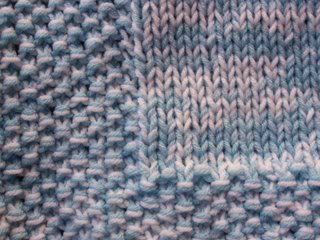 I actually really like the way the colors showed up in this piece. I used two strands of some old Red Heart I had lying around in a soft blue and white. I've never carried two different colors together before, so this was an interesting experiment. It's as pretty as a cloudy sky.
We got home from the wedding festivities on Sunday, so I used the time remaining in the weekend to complete my Herbology homework. The assignment is kind of different this month: organize all knitting supplies and your Ravelry queue. I desperately needed to do this, so it's a good thing this assignment came along.
Before this assignment, I treated my Ravelry queue as more of a favorites list. I added anything that looked remotely appealing, whether I planned to make it in the future or not. This was simply not functional, and my queue was over 1100 items long. *blushes*
I went through each and every item on the list and transferred the patterns I still liked onto my favorites list (complete with tags), and I got rid of the stuff I no longer wanted. I eventually got my queue under 20 and my favorites down around 800 patterns. Not too shabby, eh?

After that I decided to add all my yarn to the stash feature Ravelry has. I had never added anything there before, but now all my yarn is up, complete with pictures. I'm glad I did this now, as I can see my stash growing exponentially in the future. It's good to start cataloguing this stuff while I still have relatively little of it. When that was done, I updated my hooks/needles list and my library. Everything on Ravelry is now up to date.
After the computer stuff was done, I tackled the physical organization of my knitting supplies. My tools and books were never all that out of order, but my yarn was stuffed randomly into a bin in my closet and a bin near my bed.
I organized my bookshelf and my needle case, cleared the clutter away from my storage areas and organized my yarn by fiber type. I also tossed some yarn remnants I know I will never use again. You know, it's really hard to throw away yarn, no matter how little of the skein is left!

The last bit of the assignment was to make a 12 month project plan. I chose beautiful patterns that I really love and assigned them each a month. You can check my
queue
for details. I'm going to try my hardest not to deviate from the items on the list!
That's about as far as I've gotten in the HPKCHC. Today I couldn't find a sub job (probably because Christmas break
just
ended), so I have a chance to work on my Charms homework,
The Amanda Hat
. The assignment is to make something for myself, and what is better than a hat? It is my first time using
Malabrigo
, which I am absolutely loving. I'll post pics when I have more done than the cast on. Hey, I'm definitely not missing the monsters of middle school today!