This past week has been jam packed full of knitting! I've barely had any free time to sit and blog in between projects. Today I've come to a bit of a resting point, so it's time for my parade of FOs!
First is the hat I finished up for my Charms assignment in the HPKCHC.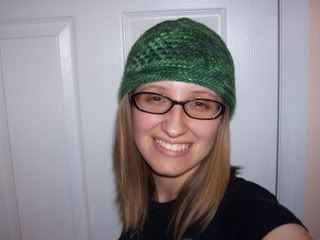 You've got to love an assignment where the only criteria is that the item you knit must be for yourself. As previously mentioned, I knit the hat out of Malabrigo. Wonderful stuff. My hat is smooshy, warm and not itchy. The perfect hat trifecta. And on a slightly off topic note, how awesome do I look in that picture? Sexy knitter alert!
Next up are the fingerless mitts I made for my DADA class. The pattern is
Fetching
, from
Knitty
.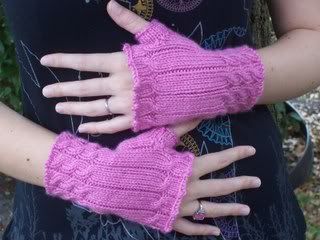 I'm
mostly
happy with these. The thumb gussets are bugging me because they aren't perfect. I don't know how people get their thumbs to look like a natural extension of the glove. I can't manage to crack that secret. I suppose this is one of those areas where practice makes perfect. I hope to make a hat to match these eventually. Maybe by next winter I'll have a nice set.
Last in the parade is my little bookmark, my assignment for Arithmancy.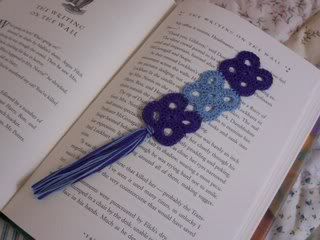 I crocheted this project for a change of pace. It only took a few hours and it came out really cute. I never think much of the bookmarks I make with crochet thread, but they seem to be far and away the favorite projects of my family. My husband and mother absolutely gushed over this and requested their own. I can spent weeks knitting a scarf or a hat and I get a "nice." I spend three hours crocheting a bookmark and they rave. Go figure.
The colors and design elements of the pattern all relate to my Arithmancy numbers. You can read about all that
here
.
Up next on the needles is my OWL project, the
#10 Triangle Lace Shaw
l
, which I have three months to complete. It will be my most intricate project ever. I'm using some beautiful soft Alpaca with a Twist Fino and some pretty purply beads. This should be interesting to say the least.
Let me just say I am REALLY happy that I started participating the the HPKCHC this year, because it's getting me focused on my craft. I've already completed four projects and the month isn't half over yet. This is shaping up to be a productive year.
Of course, this week wasn't all good. Sandwiched in between the knitting triumphs was one of the worst sub jobs in the history of sub jobs. It was a three day assignment in a middle school band room. Why oh why do so many band teachers miss school? I've had too many band jobs in my short subbing career.
There were some
nasty
pockets of kids in these classes. Of course, nearly everyone is nasty when there's a sub around, but some of these kids were especially bad. The teacher left movies to watch all three days. Of course, it was movies the kids had seen 100 times before (and let me mention, 2 times before so far in
that exact class
alone). Basically, day one was a disaster. I was trying to gauge the class and I wasn't as strict as I should have been. The kids had movie poisoning and they were climbing the walls. One period was especially interesting. There was a faction of cool kids and a faction of nerds and they were absolutely at each other's throats all period long.
I was determined to make the rest of the assignment bareable, so I entered complete Professor Umbrige bitch mode for the other two days. I was loud, I moved seats and I ran the classroom instead of the kids. They were so afraid of me I was able to finish a good portion of my Fetching Mitts while they were cowed into being pin-dropping silent. In the period with the warring factions, I put a quick end to the feud. Naturally, I let the "cool" kids have it. As soon as the ringleader of the cools started in on making fun of the nerds, I said in my best (mean) teacher's voice, "Excuse me! There will be none of that today. If I hear another word from you about them you will be out of here! Yesterday was a joke! Today will be different!" There weren't any more problems.
I really hate having to be a total ogre all day, but there is no other choice. I am a small, young woman and the kids don't respect me. I can't joke around and be relaxed or they walk all over me. It is draining and sad to have to be so mean, but it is a necessary part of subbing. If I was taller, looked older, or even if I was a man, things might go better for me. As it stands now, I have to make up for my short stature by being loud. Oh well.
There was one bright spot in it all though. One of the aforementioned "nerds" came up to me on day two and asked me to teach him to knit. I didn't have anything appropriate to teach him with on me, so I cut him a deal. I said, "If you are good all period, I will bring things to teach you tomorrow." He was absolutely silent for the whole period.
I had to hold up my end of the deal, since he behaved so beautifully. I went out to Jo-Anns that night and got some blue super bulky and yarn and arrived at school with my size 13 needles in tow. When his period rolled around I got to give a knitting lesson to him and his friends. His friends were pretty hopeless at it, but the original kid who asked me for the lesson was actually pretty good. He
got
it. He ended up knitting all through that period and coming back during another period to continue (his other class had a sub too and she was more than happy to get rid of a kid). By the end of the day he had produced a lumpy, uneven square. He made a bunch of accidental YOs and ended up with way more stitches on the top of his square than on the bottom, but he was so
proud
of himself. He said he was going to ask his dad to get him his own knitting needles and I gave him some helpful knitting websites to look up at home. It was adorable. The best part of my three day job, hands down.
He said at the end of the day, "Real men know how to knit."
"That's exactly right," I replied.