This truly has been a very good week for yarn. Early in the week (after a particularly nasty sub job, might I add) a box arrived for me from
Knit 'n Knibble
(a LYS). I hadn't ordered anything, so I was mighty curious about what was in the box. Imagine my surprise when I opened it up and found this waiting for me inside: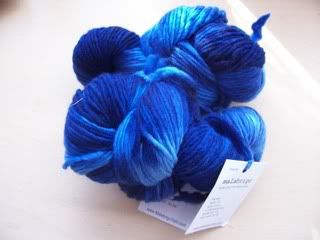 Two skeins of
Malabrigo Merino Worsted
in Oceanos
and . . .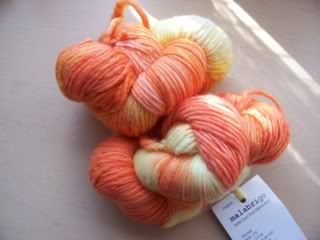 Two skeins of
Malabrigo
in Citrus
It turns out that the mysterious yarn was a gift from my DH "just because." Do I have the best husband in the world, or what? Not only is he attentive enough to know that surprise yarn is the BEST GIFT EVAR, but he also knows that Malabrigo is my new favorite worsted weight yarn.
I have no idea what I'll make yet with the Citrus, but I know I'm making a hat for the best hubby in the world with some of the Oceanus.
This was obviously the best start to a week possible, but my good yarn fortune didn't end there. This weekend I got to take a trip to my favorite LYS,
Uncommon Threads
, and pick out a few more skeins.
Firstly, some
Dream in Color Smooshy
for some new socks.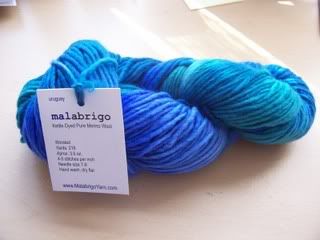 Secondly, some more
Malabrigo
because I apparantly have a serious addiction to this yarn. This time the color is Emerald Blue.
Between all the stashing, I finally got started on my
OWL shawl
. After several hours of intense concentration, this is what I have so far.
It's not much to look at yet, I know. I had to rip back four rows last night due to an
incredibly
stupid mistake (I read a row in the wrong direction and all my beads were shifted over one stitch). Thanks goodness for lifelines! I've got about 50 rows down. Many, many more left to go.
This is by far the most difficult project I have done. There are so many little bits of info I have to keep straight in my head! Remember 2 stitches on each end for the selvedge, remember to read the chart right, remember to knit a stitch for the center, remember the YOs at the beginings and ends of the rows . . . arg! It's enough to drive a girl batty. I'm hoping that after I work on it for a while longer I wil memorize more of the pattern and get into the flow of the piece without having to think about it so much. Each row takes intense amount of concentration right now. This is not a casual project! It will be worth it in the end though I suppose.
I start a 4 day sub job at my old high school on Tuesday. I'm wary. These long jobs have the potential to go
really
bad. If I don't mesh with the class, or if they just plain don't like me, each day will get worse and worse. This teacher teaches Television Production, so I have no idea what type of plans he will leave or what types of students he has. It will be an experience, that's for sure.
Here's to hoping it's not a disaster and that the kids are good enough for me to be able to read and knit the hours away.